Rakhi, one of the main festivals of India is celebrated by the siblings with pomp and enthusiasm. They keep waiting for the occasion to come. On this auspicious day, sisters keep fast and tie the sacred thread of Rakhi for the long life and good health of their brothers. They in return promises to protect their sisters from all evils of life. Most importantly sweets and gifts are exchanged to make the festival even more sweeter.

When is Rakhi in 2018?

Rakhi 2018 will be observed on 26th August. Now since you have already noted when is Rakhi, you can make a plan beforehand to make the day eventful. And if you are unable to visit home this year, by sending Rakhi to India, you can make your loving brother happy. You can take the assistance of online gifting portal, GiftstoIndia24x7.com, one of the most proficient site to send Rakhi to India. Through its efficient service, your Rakhi gifts to India will be delivered just at the time of the festivity.

You can also prepare mouth-watering recipes at home to make the festival of Rakhi grand. You can follow these recipes and let your loved ones relish delicious food -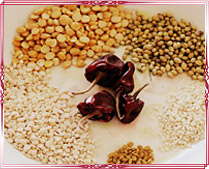 Tamarind Rice

Ingredients


3 cups of cooked rice with 1 tbsp butter/ghee/white oil
1/2 cup thick tamarind extract
3 tbsp channa dal
2 tbsp grated ginger
2 level tsp red chili powder
1 level tsp turmeric powder
1/4 tsp asafetida powder
6-8 green chilies slit in two
3-4 dry chilies
Few curry leaves
5 tbsp cashew nuts (broken up and kept)- optional
1/2 cup vegetable oil
salt to taste

Method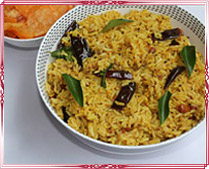 1. Heat ½ cup vegetable oil.
2. When the oil is hot add the chana dal, dry chillies, curry leaves, green chillies, asafetida powder or a small piece of solid asafetida.
3. Fry until the dal is golden brown.
4. Now, add the salt, turmeric powder, chili powder, grated ginger, broken cashew nuts and stir for a few minutes on a low flame. Don't let the turmeric and chili powder burn.
5. Boil for 15-20 minutes till the quantity reduces to half and the mixture becomes thick.
6. Put the cooked rice in a dish, add the prepared mixture and required quantity of the Tamarind extract.
7. Mix to the rice and stir well. Keep covered until ready to serve.


Spicy Dal

Ingredients:

1 1/2 cups moong dal
4 cups water
1 1/2 tsp. salt
3 tbs. butter or Ghee
1 tsp. cumin seeds
1 tsp. ground turmeric
1/2-inch stick cinnamon
1/4 tsp. cayenne pepper
1/4 tsp. ground ginger
1/4 tsp. ground coriander
1/2 tsp. mustard seeds
6 whole cloves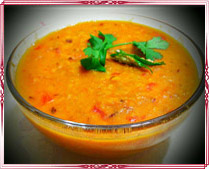 How to make spicy moong dal :

Wash the dal and boil in the salted water until it is all very soft and most of the water absorbed.
Stir often.
Heat the ghee or butter in a saucepan, and add the spices to it. Stir them around for a few minutes, then remove from the heat.
Pour the dal into the butter and spices, being careful to protect yourself from the spattering which is likely to occur.
Return to the heat, stirring often, and let it simmer until it has the consistency of a fairly thick sauce.

Hence you can celebrate this festival not only by sending Rakhi to India but also preparing scrumptious food at home.



Prepare Mouth-watering Desserts at Home to Make Rakhi Grand